116 WEST Poinsett St, Greer, SC 29650
Located in Downtown Greer, South Carolina.  Barnett Gallery is the premier art gallery in Greenville, SC showcasing award winning contemporary artists. Opening exhibitions, events, workshops, art lessons, & classes are available.
Hours OPEN
MON - TUES Closed
WED - SUN 1PM - 7PM
DATE:  August 8 – 22, 2020
OPENING RECEPTION:  August 8,  7 pm – 9 pm
Opening reception for the exhibit "Recent Work by Caroline Wright" will be Saturday, August 8 2020 from 7 pm – 9 pm at Barnett Gallery. Come by and view Caroline's new artwork and meet the artist. Live music with free drinks & food served. More Info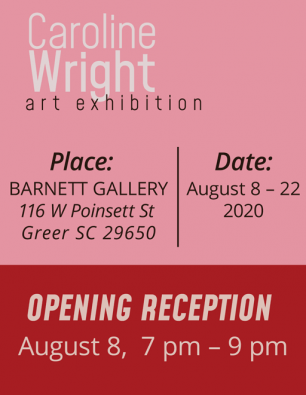 Shop features a mix of reusable treasures and hand created pieces to bring Aloha into your lifestyle available only at Barnett Gallery.
Barnett Gallery Online Store
Buy Original
Paintings
Drawings
Prints
Clothing
Drawing Sonic the Hedgehog and friends like Tails and Knuckles can be very difficult unless you follow this easy to use tutorial by Barnett Gallery. …
Read More →
DATE:  March 8 – 22, 2020
OPENING RECEPTION:  March 8,  7 pm – 9 pm
Opening reception for the exhibit "Oil Paintings by Joel Barnett" will be Saturday, March 8 2020 from 7 pm – 9 pm at Barnett Gallery. Come by and view Joel's new artwork and see an unveiling of a new painting. Live music with free drinks & food served. More Info