Minnie Mouse by Walt Disney can be easily drawn / sketched / painted / sculpted / shaded by following this easy simple drawing and sketching tutorial.
STEP 1:
Draw some simple and easy and quick tubes for the body, legs, and head.
STEP 2: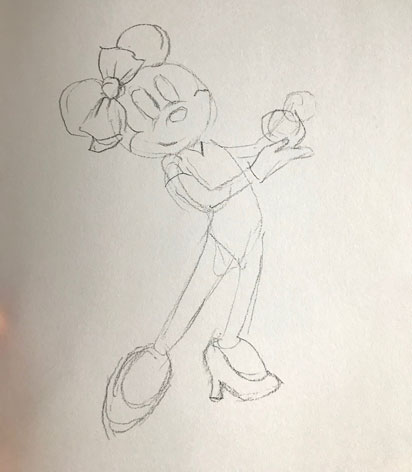 Now add the detail of Minnie Mouse's eyeballs / nose / mouth. Include the bow and make a circle for the perfume bottle.
STEP 3:
Add the dress by using long flowing lines and draw in the eyeballs with long eyelashes.
STEP 4:
In step 4 you must darken the skin tones and finish outlining the figure.
STEP 5:
In Step 5 of the Mickey Mouse drawing tutorial by art gallery in greenville sc, you add the shadows to give the minnie mouse cartoon a 3d effect.
STEP 6:
For the final step, add lines coming from the perfume spray bottle.